I have been creating client graphics since 2002, computer graphics since 1989, and painting and art since 1980. I have been on the internet itself since the early days of pay per minute Compuserve, and I am a self-admitted technology addict.
In the early days, html coding was very rough, and our only options were to write raw code directly in notepad for upload via FTP. My earliest sites were created that way, and you know, even by today's standards, they weren't bad!
Graphics were the biggest challenge for early computing. The software available was limited, and digital cameras did not exist. Scanners were expensive and not very efficient in the days where owning a thermal roll fax machine was a big deal (and they cost $2000!). So of course, when the first graphics software hit the market, I had to try them. My background in fine arts and acrylic painting really helped with computer graphics, even with the primitive graphics programs we had in those early years.
Today, there are a plethora of tools and software to make graphic design and web design easier. I'm still fond of my earliest works, and show them every chance I get anyway.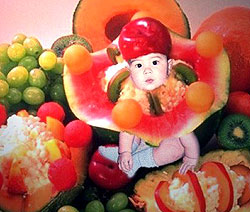 The babyfruit above was done in 1996 using Microsoft's PictureIt! and a poorly scanned photo of my son, an infant at the time. I still think this photo editing image I created is cute, despite being over a decade old.
AzenGraphics is a new company name. I started out with the name Halowebs, but discovered that someone else used a very similar name and also had a website 1 letter away from mine. I ended up changing the name to ZenSoaps Graphics for a time, because I had, and still have, a small handcrafted soaping business by the name of ZenSoaps, and finally to AzenGraphics, as Zen is a very popular name and can easily be confused.
This site, with it's informality and simple layout is my on-line portfolio. I personally like and appreciate websites that are simple and easy to navigate. Ones that give me the sense that they are more personal and approachable, yet still professional in look and feel.
As most of my graphic clients have been hand-crafted businesses, some of which are among the giants in the field, the informal professionalism reflects the work I have done. My simple portfolio is linked by category on the left, and I hope you find my work not only professional but a bit fun too!
I didn't include a contact page because my email is on every page of the site already. Email is simply the easiest way to reach me. If you need a quote, click my name below and let me know what you need~!
Background
BSFS Georgetown University - School of Foreign Service
Major: International Politics, Law and Organization
Minor: Fine Arts
- I have won numerous awards and ribbons for my Acrylic canvas paintings from 1983-1986, and continue my lifelong passion for art and collecting art in many forms.
1986-1990- Director of Photography
John Casablancas Model and Talent Management, Orlando, Florida
1989-1994- General Partner
The Orchid Gallery
- an orchid nursery/International brokerage for Orchid plants
1994-2002- Partner/Manager
Starkweather Construction Co
- Concrete & Masonry Subcontractor - we completed well over 200 projects large and small for Disney, NASA, US Air Force, Orlando and Edgewater City and County Government, including all foundation and masonry for Disney's Vacation Club Villas Phase 1 and 2, NASA's VAB bldg remodeling, Employee Service Bldgs for Epcot and MGM Studios.
2002-2007- Owner ZenSoaps Inc
- www.zensoaps.com
- hobby level handmade soaps and bath products
2002- present - Freelance Graphic Designer
ZenSoaps Graphics / Halowebs

Current Software Proficiencies
(including all previous versions)
Adobe Photoshop CS3
Adobe Illustrator CS3
Adobe GoLive CS
Adobe Acrobat 8
Adobe In Design CS2
Dreamweaver CS3
Microsoft Expression Web
Macromedia Flash (now Adobe) - all versions
Microsoft Frontpage
Macromedia Fireworks (now Adobe) - all versions
Corel Suite 12
Microsoft Access 2007
Microsoft Word 2007
Microsoft Excel 2007
Microsoft Publisher 2007
Microsoft Powerpoint 2007
Click Here to Email for a Quote